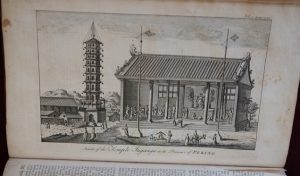 Conservation
The Athenaeum inaugurated a strategic program in 2012 to conserve books in the historical collections.  Each year approximately 20 volumes are selected and presented at Conservation Night where members and friends pledge their support to fund the required work.  The work is completed by professional conservators and the renewed volumes are revealed to the sponsors and the public at the following year's Conservation Night.
Adopt-a-Book
Join us on January 13, 2019 for the next Adopt-a-Book event.  Dr. Sue Weaver Schopf will give a talk about the influential psychology work of David Hartley.  A full list of titles for adoption will be available soon.
Interested sponsors may contribute the full price of restoration or a share. Contributions in any amount will be gratefully accepted and will go toward the books most in need. All donations are tax deductible.
Images below are of books featured in the 2017 program and currently out for conservation.
Carey's General Atlas. Philadelphia: Published by Matthew Carey.  May 1, 1796.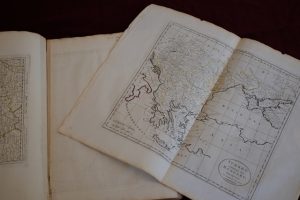 Principles of Electricity, By Charles Viscount Mahon, F. R. S. [Charles Stanhope Stanhope]. London : P. Elmsly, 1774.
Just and impartial narrative of the controversy between the Rev. Mr. Samuel Fisk the Pastor, and a number of the brethren of the First Church of Christ in Salem. [and other pamphlets].
Boston : Thomas Fleet, 1735.

Principles of Polity. By Thomas Pownall, Esq. London : Edward Owen, 1752.
An account of the Pelew Islands. By George Keate, Esq. F. R. S. and S. A.  Fourth edition.  London : Captain Wilson, 1789.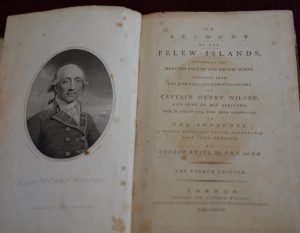 Navigantium atque Itinerantium  Bibliotheca, or a complete collection of voyages and travels consisting of six hundred of the most authentic writers beginning with Hackluit, Purchass, et in English. By John Harris. London : T. Woodward, et al.  1744. Two volumes.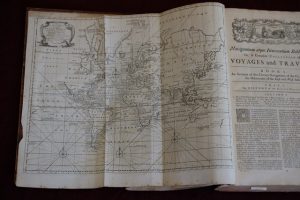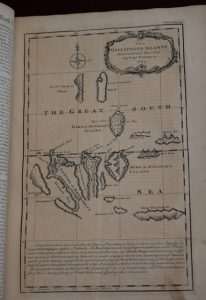 To sponsor any of these volumes, or for more information, contact:
Jean Marie Procious
337 Essex Street
Salem, Massachusetts 01970
The following books are also being conserved this year:
1.  A Summary History of New-England, from the first settlement at Plymouth to the acceptance of the Federal Constitution comprehending a general sketch of the American War.  By Hannah Adams.  Dedham : H. Mann and J. H. Adams, 1799.
2.  The works of Anna Letitia Barbauld with a memoir by Lucy Aikin, in three volumes. Boston : David Reed, 1826.

3. A state of the expedition from Canada as laid before the House of Commons by Lieutenant-General Burgoyne.  John Burgoyne.  Second edition.  London. J. Almon, 1780.
4. The analysis of beauty. Written with a view of fixing the fluctuating ideas of taste.  By William Hogarth.  London : J. Reeves, 1753.
5. Moby Dick.  By Herman Melville.
New York : Harper & Brothers.
6.  Travels in the interior districts of Africa: performed under the direction and patronage of the African Association in the years 1795, 1796, and 1797. By Mungo Park, surgeon.  By Major Rennell.  London : Printed by W. Bulmer and Co.; and sold by G. and W. Nicol, 1799.
7. The principles of mechanics. Explaining and demonstrating the general laws of motion, the laws of gravity, motions of descending bodies, projectiles, mechanic powers, pendulums, centers of gravity, etc. strength and stress of timber, hydrostatics,  and construction of machines. The second edition, corrected and very much enlarged. With 43 copper plates.  London: J. Richardson, 1758.
8. A treatise on the social compact or the principles of politic law.  By J. J. Rousseau.  London : T. Becket and P. A. de Hondt, 1764.
9. Observations on the climate in different parts of America, compared with the climate in corresponding parts of the other continent. To which are added remarks on the different complexions of the human race: with some account of the Aborigines of America.  By Hugh Williamson, M.D. LL. D. New York : T. & J. Swords, 1811.