Handmade marbling and block-printing decorated the endpapers of expensive books of the 18th and 19th centuries, but only the plainest endpapers served ordinary books. Then in the 1830s, the mechanization of bookbinding, with its speeded assembly, made it possible to bind large numbers of the same book at dramatically lower costs. Bookbinders could now pay more attention to book decoration.
Using lithography or letterpress, binders began embellishing endpapers with small repeating patterns. The first of these patterns, in the 1840's and '50's, were tiny geometrics, often made from printers' ornaments. The designs were crisply defined and in clear colors.
Like endpapers, playing card designs were small-scale, one color designs which were secondary in importance to what they decorated. The small geometrical pattern used as endpapers in a book about whist was also used for the backs of playing cards.
During this period, binders also used endpapers in flat, solid colors, and in the following decades they appeared with increasing frequency. These "Stone" endpapers were made either by adding dye to the pulp to make color-permeated papers, or by color-coating one side of the finished paper as it was drawn onto rollers.
The color-coated paper came in an array of colors, from the respectable brown of many Victorian books, to deep blues, soft greens and Necco wafer pastels. Occasionally these were polished to a porcelain finish to embellish mid-century gift books.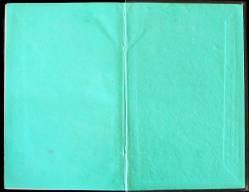 Ruckert's Gedichte by Friedrich Ruckert. Frankfurt: 1846.