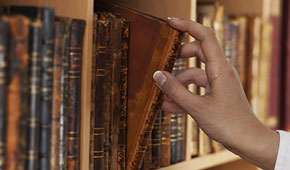 COVID-19 Updates
During the COVID-19 pandemic, the Athenaeum has continued to adapt and offer services to members and friends.
The Athenaeum is now open to members for browsing during normal open hours. Members are also welcome to view the current exhibit in the Wendt Room.
Curbside Book Service and Delivery
No-contact delivery (within 5 miles of the Athenaeum) and curbside pickup of books is available to members Tuesday–Saturday.
Learn more and request a book today!
Online Groups
Many of the Athenaeum's existing groups have continued to meet online. For a list of active groups, and joining information, visit the Online Groups page.
Online Programs
We continue to offer a variety of lectures, workshops, and other programs online, mostly via Zoom. Visit the calendar for upcoming events.
Garden
The grounds of the Athenaeum are open during daylight hours. Enter via the Botts Court gate. Masks and social distancing are required. Pets must be kept on leash.