Our Current Exhibition
Fall 2016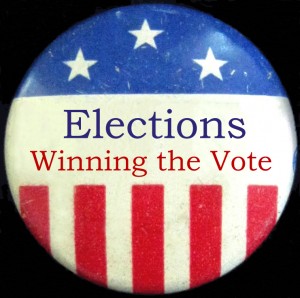 Elections: Winning the Vote celebrates our right to vote, from colonial election festivities to the achievement of suffrage by Blacks, women, and Native Americans. The exhibit includes campaign posters, buttons, and books from the Athenaeum's collection.
In Colonial America, Election Day was the largest holiday celebration had its own rituals akin to today's Memorial Day parade or pumpkin pie on Thanksgiving. Schools and businesses closed and families gathered. In New England, the first order of business was always the Election Day sermon. A great honor, each year a different minister was selected to deliver the sermon and it was often published as a pamphlet following the election. The Salem Athenaeum has a collection of approximately twenty local Election Day sermon pamphlets. The 1765 sermon preached by Rev. Andrew Eliot of Boston was the source for our Election Day celebration on Columbus Day 2016. Several of these are on display.
You may also participate in the 1768-style election for the new Salem Athenaeum mascot. All are welcome to vote, but be sure to choose the ballot that reflects the level of voter requirements that you meet!
The nineteenth- and twentieth-century struggles for Black, Women and Native American suffrage are well documented in the Salem Athenaeum's Historic Collections. Among the volumes on display are Ecce Femina: The Woman Question, 1870; Woman's Worth and Worthlessness, 1872 (an argument against women's suffrage); Woman in the Nineteenth Century by Margaret Fuller, 1874; Life and Times of Frederick Douglass, 1893; and Booker T. Washington's Up from Slavery, 1901.
Salem election ephemera from the 1940s, including nomination papers and posters from the Salem Get Your Vote Out Committee, campaign buttons and presidential biographies through the present day, round out this comprehensive view of voting in the United States.
Recent Exhibition:
Spring/Summer 2016
Celia's Salon: America's First Artists' and Writers' Colony
Celia Thaxter (1835-1893) was the most popular American woman poet of her time and the hostess of a summer salon on the Isles of Shoals, off the coast of NH. Her salon attracted America's finest writers and artists, including Nathaniel Hawthorne, Henry David Thoreau, John Greenleaf Whittier, Sarah Orne Jewett, William Morris Hunt, Ross Turner and Childe Hassam.
Celia's Salon features early published work by Celia Thaxter and Childe Hassam in the children's magazines Wide Awake and St. Nicholas and well-known works from later in their careers; a bowl hand-painted by Celia Thaxter with olive boughs, on special loan from the Portsmouth Athenaeum; delicate floral-decorated china painted in the style of Celia Thaxter on loan from a private collection; rare works by authors who were part of Celia's salon and more!Salon regulations were simple. Open hours were stated, and unless you had a personal invitation, seating was not guaranteed—even on the floor!Appledore House, home base to many Celia's visitors, was one of the first seaside resorts in the United States. Peruse our Appledore Hotel "Registry" and learn about noteworthy poets, painters, journalists and presidents who visited this island retreat. Examples of local culture, including a seaweed scrapbook and eggshell seed starters, round out the picture of island life.Salem Athenaeum celebrates Celia's Salon, and our common mission to encourage creativity, and share literature, music and art. In the summers, like Celia, we enjoy a lovely garden and our Friday Salons. Come experience an ambiance of art and literature "in the key of sea."Curated by Elaine von Bruns.
Past Exhibitions:
Samuel Hall: Patriot Printer of the Revolution
Early Birds: Portraits by the Fathers of American Ornithology