Join us for a very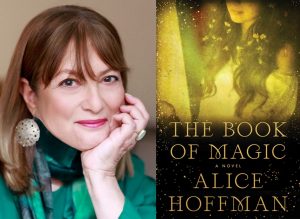 special evening with author Alice Hoffman and a screening of the film adaptation of her novel, Practical Magic. She will be speaking about her latest book, The Book of Magic, a sequel to Practical Magic. Alice chose Salem Athenaeum as her launch partner for her new book and we are very honored to host her on the paperback pub date at Cinema Salem!
She is the bestselling author of more than thirty works of fiction, many of which have been adapted for TV and film, including: Magic Lessons: The Prequel to Practical Magic, The World That We Knew, The Rules of Magic, The Marriage of Opposites, The Red Garden, the Oprah's Book Club selection Here on Earth, The Museum of Extraordinary Things, The Dovekeepers and more. She lives near Boston.
Presented by Salem Lit Fest, Salem Athenaeum, and Cinema Salem.
Books for sale and signing at the event courtesy of Wicked Good Books.
Learn more about Alice Hoffman.
7:00 p.m. Alice Hoffman talk followed by signing
8:15 p.m. movie
$25, talk and movie
$10, movie only