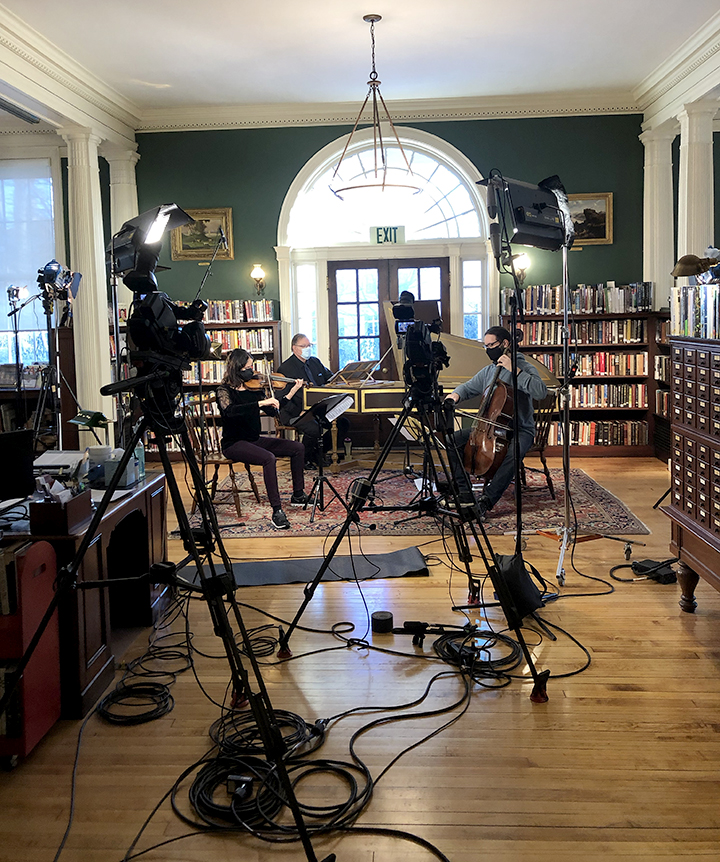 For what would have been the sixth year of thrilling sold-out audiences at the Salem Athenaeum, Susanna Ogata, Guy Fishman, and Ian Watson are presenting a virtual concert with all the fire and passion of seventeenth century baroque music!
The trio visited the Salem Athenaeum this winter to record a special concert in the library's reading room. We are excited to share this brilliant performance with you, bringing it to your chambers. Enjoy an evening of music that highlights each of the three musicians' virtuoso talents as well as their unsurpassed ensemble work.
The concert will be broadcast on March 13 at 8:00 p.m.
The link to the broadcast will be available to ticket holders until 11:59 p.m. on March 14.
Save your seat for this very limited engagement!
Program
Sonata Seconda a Soprano Solo, Dario Castello (1602-1631)
Violin sonata in A minor, "Cucu," Johann Heinrich Schmelzer (1620-1680)
Cello sonata in A major, Domenico Gabrielli (1659-1690)
Trio in A minor BuxWV 272, Dietrich Buxtehude (1637-1707)
Violin sonata, Op. 3 No. 2, "La Cesta," Giovanni Antonio Pandolfi (1624-1687)
Six variations on "Mein junges Leben hat ein End,'" Jan Pieterszoon Sweelinck (1562-1621)
Trio sonata in D minor, Alessandro Stradella (1643-1682)
Boston Classical Trio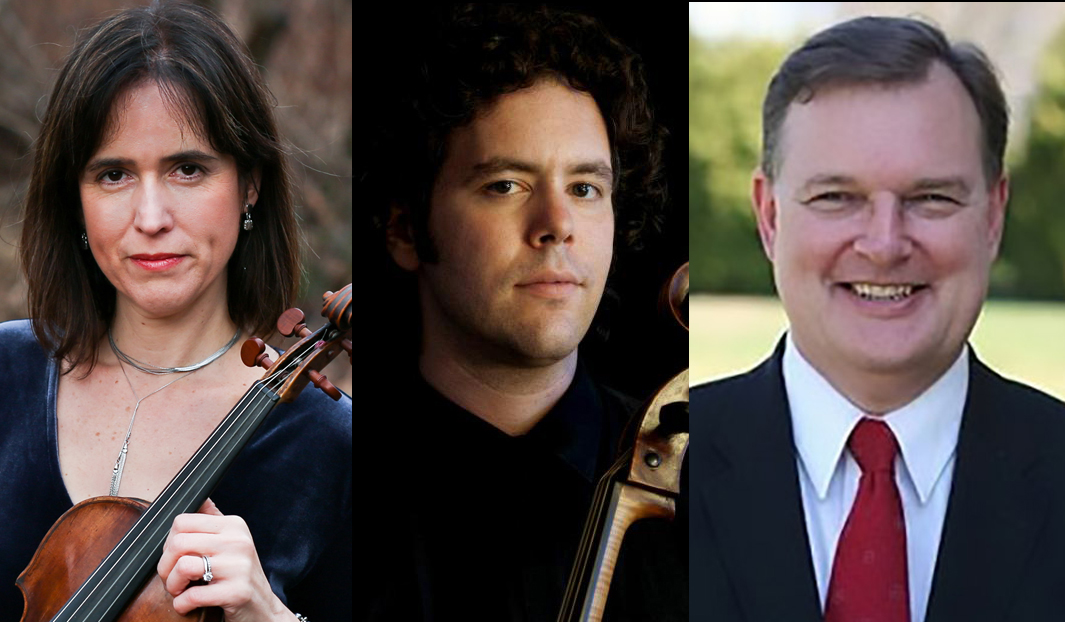 Susanna Ogata, violinist, participates and soloes with the Handel and Haydn Society and serves as Assistant Concertmaster. Dedicated to exploring music on historical instruments, Susanna has also performed with the Arcadia Players, the Bach Ensemble, the Sarasa Ensemble, and both the Boston Early Music Festival and the Kennebec Early Music Festival. Susanna's music has been described as showing "electrifying energy, awesome technical command and rollicking dialogue," by Arts Fuse Magazine. Susanna pursued her undergraduate and graduate studies at the Eastman School of Music.
Guy Fishman, cellist, first played at Boston's Symphony Hall with the Handel and Haydn Society in 2005. He has played with a number of groups — Boston Baroque, Apollo's Fire, Emmanuel Music, Rockport Music, The Boston Museum of Fine Arts and Arcadia Players, among others. He is principal cellist with the Handel and Haydn. Guy has appeared in many venues and has an extensive recording history. Guy's music has been called "brilliant" by the Huffington Post, and "beautiful…noble" by the Boston Herald. After completing his baccalaureate studies at the Manhattan School of Music, he pursued doctoral work at the New England Conservatory of Music, where he is now on the faculty.
Ian Watson has been described by The Times of London as a "world-class soloist." As a young teenager he began his studies at the Royal Academy of Music, completing his studies in Belgium. His first major appointment, at nineteen, was as organist at St. Margaret's Church, Westminster Abbey. He is artistic director for the Connecticut Early Music Festival and of the Arcadia Players. He has appeared with several orchestras throughout Europe and has been featured on many soundtracks for major motion pictures. Ian serves as the Associate Conductor and principal harpsichordist of the Handel and Haydn Society. Several years ago, he and Susanna Ogata completed the "Beethoven Project," recording the ten sonatas the composer wrote for fortepiano and violin.
PLEASE NOTE: This event will be held online.
The link for the event will be sent to all registered participants 20 minutes before program start.
You may still buy tickets after the broadcast starts on Saturday—a link will be sent in your confirmation email.