T
he Salem Athenaeum is pleased to feature virtuoso violinist and composer Jason Anick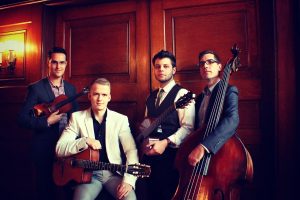 and his acoustic jazz ensemble, Rhythm Future Quartet. 
Jason

'

s Rhythm Future Quartet has a straightforward objective: keeping the spirit of Gypsy jazz alive and expanding in today's musical universe. The quartet offers up a newly minted sound, influenced by Django 
Reinhardt and Stephan 
Grappelli of the Hot Club of France. The quartet performs dynamic and lyrical arrangements of both Gypsy jazz standards and original compositions that draw upon diverse international rhythms and musical idioms. Rhythm Future is dedicated to expanding the boundaries of a vital musical genre. Simply put, the Rhythm Future Quartet 
brings the Hot Club of France forward into the 21st century.
Jason Anick is one of the youngest violin professors at Boston's Berklee College of Music and is "a rising star in the world of jazz violin and mandolin" (Downbeat Magazine). Anick has shared the stage with a wide array of artists including Tommy Emmanuel, Hamilton de Holanda, John Sebastian, Stevie Wonder, Delta Rae, and Girls, Guns and Glory. His performances have brought him to China, Europe, and Japan. He has been featured at renowned venues including the Montreal Jazz Festival, Blue Note, Smalls Jazz Club, Scullers Jazz Club, Yoshi's, Iridium, TD Garden, Regattabar, NPR, and The Late Night Show. Jason is a proven leader in the ever-growing contemporary string world.
Last year marked the release of their latest album, "Rhythm Future Quartet and Friends". While maintaining the effervescent lilt, virtuosic musicianship and adventurous musical leanings of previous recordings, "Rhythm Future Quartet and Travels" (picked as one of the best jazz albums of 2016 by All About Jazz and the Huffington Post), RFQ and Friends brings vibrant new colors to the mix. JazzTimes Magazine stated, "RFQ and Friends is packed to the gills with feeling and remains consistently dynamic, full of virtuosity and swing." With its arresting blend of Hot Club of France styled string jazz, Brazilian and East European idioms, original compositions and hints of classical music, the album marks a significant moment in the growth of a continually evolving ensemble. The Rhythm Future Quartet's increasing popularity is laudable: The quartet's version of Django's "Minor Swing" has over 5.6 million views on YouTube, and their video clip of "Bushwick Stomp" from Travels has over 3.2 million Facebook views.