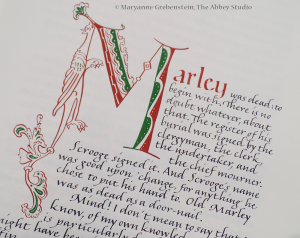 It took Maryanne Grebenstein over three years and
143 pages to hand letter the 29,000 words contained in Charles Dickens' A Christmas Carol. Join Maryanne as she discusses the plan, the process, the ups and downs, and the surprises she encountered while creating her manuscript. Illustrated with decorated words rather than traditional pictures, it's a modern take on a traditional layout.
Maryanne Grebenstein is a professional calligrapher and owner of The Abbey Studio in Marblehead, MA. She studied under Sheila Waters, Jeanyee Wong, Robert Boyajian and other notable calligraphers. She teaches workshops in calligraphy, manuscript gilding, and layout in her Marblehead studio/shop. She is a former teacher at North Bennet Street School, and a former Adjunct Professor at Massachusetts College of Art. She is the author of Calligraphy: A Course in Hand Lettering and Calligraphy Bible, both published by Watson-Guptill.
This is a hybrid event.
Please specify if you are attending in person when you sign up.