Special Outing for Athenaeum Members
Join us for a guided walk at Long Hill in Beverly with Trustee of the Reservations.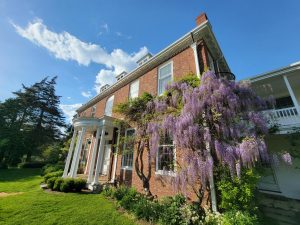 Senior Horticulturist Dan Bouchard will lead the group on a tour around Long Hill's stunning Sedgwick Gardens and share his knowledge of the special plants its most known for. In addition to learning about what plants are in bloom as well as the rare and unique species in our collection, you'll hear how the gardens were developed by the fascinating Sedgwick family.
Long Hill was owned and cared for by the Sedgwick family from 1916 to 1979, their beloved summer home that, in the 1950s, became their year-round haven. Mabel Cabot Sedgwick, an accomplished gardener and author of The Garden Month by Month, and her husband, Ellery Sedgwick, noted author and editor of The Atlantic Monthly, summered here until Mabel passed in 1937. After Mabel's death, Ellery married Marjorie Russell Sedgwick, a rare plants specialist. The combined creative vision of these two women led to the design of Long Hill's enchanting gardens, surrounded by more than 100 acres of woodland.
Today, visitors delight in the beauty of Long Hill's structured and naturalistic gardens as well as a network of woodland trails. A diverse collection of trees, shrubs, and distinctive perennial plants provide color during the growing season, peaking in May and June and providing structure and beauty throughout the year. With an ever-growing calendar of public events and festivities, you'll find ample reason for frequent returns.
Please dress appropriately for the weather. Sturdy shoes are recommended.
Limited to 15 Athenaeum members.