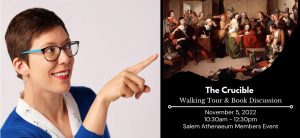 Starts at Salem Witch Trials Memorial, 24 Liberty St.
Ends at Salem Athenaeum, 337 Essex St.
Join Rebecca Johnson from
Dynamic History Salem
for a special combination walking tour and book group on Arthur Miller's classic play
The Crucible.
Read (or listen or watch) the old high school English classic prior to the event. On Saturday, November 5, tour sites relevant to the 1692 witch hysteria in downtown Salem to find out what inspired author Arthur Miller. The tour will end at the Salem Athenaeum, where we will discuss the play and its continuing relevance today. Recommended age is 12+.
Please dress appropriately for the weather.
Rebecca Johnson, Ph.D., owner and guide of Dynamic History Salem, was a college educator in the sciences and humanities for over 10 years before falling in love with Salem. She studied biology, theology, and American studies, which seems like an odd combination, but blending these fields gave her great insight into how people relate to themselves, each other, and their environment. History is only relevant when it's relatable, and Rebecca is here to help you find the stories that are meaningful to you.
Limited to 12 Athenaeum members.
Ticket sales benefit Salem Athenaeum.