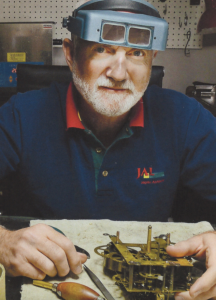 Clock expert Bob Frishman will give a richly illustrated non-technical presentation on the history of timekeeping in New England from the Mayflower to the 1883 adoption of standard time. A special focus on early Salem clockmakers and watchmakers will be included.
Bob Frishman entered the world of horology on Thanksgiving, 1980 when he met a collector/dealer/repairer who started him down the path that has led to nearly 8,000 clocks repaired, nearly 1,800 antique clocks sold, more than 100 articles published and more than 100 lectures delivered. A scholar of horology — the science of timekeeping, he is a Silver Star Fellow of the National Association of Watch and Clock Collectors and is a Liveryman of the Worshipful Company of Clockmakers, the London guild chartered in 1631. He lives and works in Andover, Massachusetts. Learn more about his work at www.bell-time.com/
This is a hybrid event.
Please specify if you are attending in person when you sign up.