Are you ready to take The Great American Political Trivia Challenge?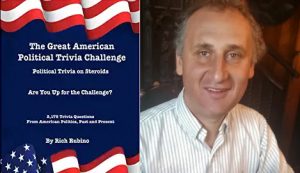 In a humble attempt to end the great political divide, Rich Rubino has assembled a non-ideological and non-partisan quiz challenge that explores the peculiar, bizarre, and unusual, inside American Politics.
Politics may have become a contact blood-sport, but Rubino created this book and quiz with peaceful intentions. If he does not meet this lofty goal, however, the results should at least be challenging and fun, even if a little exasperating.
Here are a few examples:
1) Which U.S. President gave the Pope a five-inch bust of himself?
2) Which U.S. President sold the Federal Government's tool supply so they could not be used for public works projects during an economic depression?
3) Which U.S. President is a national hero in Paraguay but largely forgotten in the U.S.?
4) Name the Secret Service agent who almost accidentally shot President Lyndon B. Johnson on the day he was inaugurated.
5) Who is the only President not mourned after his death in Washington, D.C.?
6) What is the first thing George W. Bush said to Barack Obama the first time they ever met?
Join us in the Athenaeum garden for an hour of trivia fun and maybe learn something new!
Rich Rubino is the author of five political books and a public speaker about American politics. He has appeared on C-SPAN2 and MSNBC and is a frequent guest on radio stations across the country. He has contributed more than 100 political analysis pieces to The Huffington Post. He holds a Bachelor's Degree in Political Science and Communications from Assumption University, and a Master's Degree in Broadcast Journalism from Emerson College. He lives in Marblehead.
This event will be outdoors in the garden.
Please bring a folding lawn chair if you have one.