Storytelling: Mismatches and Odd Couples
Come hear five local citizens tell true stories, live, without notes, in the lovely Salem Athenaeum garden. The Athenaeum Writing committee presents a fresh batch of stories on the theme of "Mismatches and Odd Couples." What to do when two things, or people, are completely different? When something doesn't fit? Do opposites attract? Hosted by J.D. Scrimgeour, the event features stories by Samantha Costanzo Carleton, Elizabeth Cayouette, Joe O'Day, Alexa Ogno, and David Silva (picture left to right below).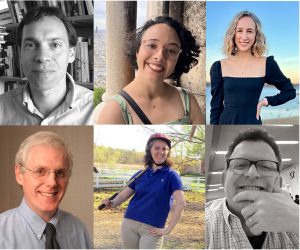 Samantha Costanzo Carleton is a full-time copywriter and sometimes-journalist living in Salem. She learned the art of storytelling from her great-grandmother, who was always happy to share tales about growing up in Havana, and is always on the lookout for new stories of her own.
Elizabeth Cayouette is a writer and video content creator. She went viral on TikTok and Instagram for her account @bettysbooklist, on which she recommends books by acting out the plot as the main character. She also works as a commercial director and cinematographer with a focus on fashion video. Elizabeth is currently working on her debut novel.
Joe O'Day is a life-long resident of Salem. He recently received his MA in English from Salem State University and has published a number of personal essays. He worked as a hospital pharmacist for 40 years and until his retirement served as Director of Pharmacy at Brigham and Woman's Faulkner Hospital.
Alexa Ogno recently (2004) moved to Salem and loved it so much she moved next door from her original apartment. When not on Facebook or her SUP, she can be found making things or playing with her circus friends.
David Silva, a native of Medford, MA, is the son of Azorean immigrants and husband to the kindest fella in the world. A linguist by training, he respects the power of language. Portuguese by temperament, he appreciates the power of saudades, that distinctively Portuguese emotion speaks to loss and longing, sadness and sentimentality. He currently serves as the Provost and Academic Vice President at Salem State University.
Please enter the Athenaeum garden by the gate on Botts Ct. (The front door of the building will be locked at 6:00 pm.)
Please bring a folding lawn chair if you have one.
This event is free to Athenaeum members; $15 general admission.