When:
March 10, 2018 @ 2:00 pm – 4:00 pm
2018-03-10T14:00:00-05:00
2018-03-10T16:00:00-05:00
Where:
Salem Athenaeum
337 Essex St
Salem, MA 01970
USA

Cost:
$155 members; $175 non-members
Contact:
Salem Athenaeum
978-744-2540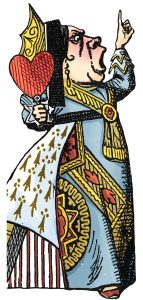 Theo Theoharis, instructor
6 Saturdays
The term Victorian has accumulated many meanings in the 100 years since its century and ruler have passed–stodgy, disciplined, sentimental are a few words associated with English life during the century that made England the ruling power economically and politically in much of the world. In this class we will read some of the literature which presents different moods, ideas, and aspirations from those we are accustomed to thinking of as Victorian, namely: antic comedy and cultural fantasizing in two novels, and longing, depth psychology, and sublimity in three poets. We will start with Lewis Carroll's Alice's Adventures in Wonderland, then move on to the poems of Matthew Arnold, Robert Browning, and Alfred, Lord Tennyson, and end with the Imperial Adventure story She, by H. Rider-Haggard, a great popular favorite whose readers included Sigmund Freud. There is a light-heartedness and well as intensity about the literature of this era. Let's discover how these two tones relate to a world now past, which in many ways created and continues in ours.
The following is the list of preferred editions for the course texts:
Alice's Adventures in Wonderland & Through the Looking-Glass, Lewis Carroll, Modern Library
ISBN 978-0-375-76-138-6
The Penguin Book of Victorian Verse, editor Daniel Karlin, Penguin Classics
ISBN 978-0-140-44578-7
She, H. Rider Haggard, Penguin Classics
ISBN 978-0-140-43763-8
Syllabus
Class 1, Alice's Adventure in Wonderland
Class 2, Through the Looking Glass
Class 3, Poems by Arnold, Browning, Tennyson
Class 4, Poems by Arnold, Browning, Tennyson
Class 5, She: A History of Adventure
Class 6, She: A History of Adventure