When:
November 7, 2018 @ 7:00 pm – 8:30 pm
2018-11-07T19:00:00-05:00
2018-11-07T20:30:00-05:00
Where:
Salem Athenaeum
337 Essex St
Salem, MA 01970
USA

Contact:
Salem Athenaeum
978-744-2540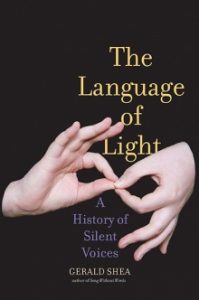 This event will be ASL interpreted.
Gerald Shea lives mostly in the realm of the hearing, but as a partially deaf person, his search for communicative grace and clarity is quartered in his understanding of the world of the Deaf, of which he feels he is a part. His new book, The Language of Light tells the story of the arduous struggles of the Deaf across centuries (joined by their hearing allies) to attain and preserve the right to be taught in their unspoken tongue—the only language that renders them complete, fully communicative beings.
Alison Fondo is also with the Massachusetts Commission for the Deaf and Hard of Hearing in Boston. Alison is profoundly deaf, having lost most of her hearing from ototoxic medicine when she was a few weeks old. She was left with some hearing in one ear, and was raised and educated orally, with the help of a hearing aid for that ear and lipreading. She began to learn ASL as a child, and received a cochlear implant at age 34. English is Alison's first language, and she is fluent in ASL.
Kristin Johnson is the Director of Social Services at the Massachusetts Commission for the Deaf and Hard of Hearing in Boston. She received her degree from Harvard University. Kristin is profoundly deaf and communicates with the help of lipreading and hearing aids.
Christine Majeskey has been a teacher of the Deaf at The Center for Children's Communication/Beverly School for the Deaf for 34 years. Prior to coming to Beverly she taught the Deaf at schools in Washington, D.C. (Gallaudet's Model Secondary School), in Boston, and elsewhere. She graduated from Boston University in 1979 with a degree in Special Education/Elementary Education and in 1984 received a degree, in School Counseling of the Deaf, from Gallaudet University. She loves working with middle and high school students, and has a passion for teaching American Sign Language (ASL).
Gerald Shea has lived most of his life in New York and in Paris, and practiced law in both cities for many years with Debevoise & Plimpton as a member of the New York and Paris bars. He is a graduate of Phillips Academy (Andover), Yale University, and Columbia Law School. He became partially deaf as a result of a childhood illness and uses hearing aids and other assistive listening devices. He is the author of Song Without Words (Perseus Books, 2013), published in French as La Vie Malentendue (Albin Michel 2015), and of The Language of Light (Yale University Press 2017). Gerry lived here in Salem for much of his young life.