Spring/Summer 2019 Exhibition
The Grand Tour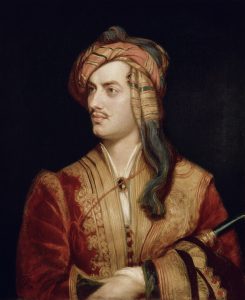 If a European vacation is not in the cards for you this summer, then why not stop by the Salem Athenaeum's current exhibit, The Grand Tour and take a virtual tour in time and books and see how people used to travel—you'll be surprised at how little has changed in the past two centuries.
The Grand Tour features books from the library's historical collections that cover the tourist hotspots of the 18th and 19th centuries, many of which remain popular to this day—Paris, Mont Blanc, Rome, Venice, ruins at Pompeii and Vesuvius, the Rhine, Spanish castles and more!
Travel guides existed long before Fodor and AAA published them. A few, such as the 1756 edition of Nugent's The Grand Tour, Or A Journey through Netherlands, Germany, Italy and France and a 1776 reprint of the 1611 travelogue Coryat's Crudities, which was owned by early Athenaeum member Ernestus Plummer (and includes his copious notes), are on display as well as some practical road guides like The Post Roads of Europe, Being A New Edition of the Work Published by Authority during the Reign of Napoleon from 1820—complete with foldout maps! Several Baedeker guides for various European destinations are also peppered throughout the exhibit to help you stay oriented while taking your Grand Tour at the Athenaeum.
Making a packing list is a must for any long voyage, and in many cases the Grand Tour took months or years. Exhibit curator Elaine Von Bruns compiled a pamphlet entitled Advice for Grand Tourists, which includes a sample itinerary and packing list, to make sure no one forgets their carving set or mosquito net.
One exhibit case dedicated to social commentary of the Grand Tourist, juxtaposes satire such as Alexander Pope's The Dunciad (1757) and Laurence Sterne's A Sentimental Journey through France and Italy (1768), with books by serious European travelers including American activist, Frederick Douglass (1893), and feminist, Lady Mary Wortley Montagu (1837).
Perhaps the most documented of the Grand Tourists, however, was British poet Lord Byron (1788-1824), who toured Europe several times and referenced it much in his works. Lord Byron: Mad, Bad, and Dangerous to Know, a lecture on Byron, his Grand Tours and other exploits, will be held at the Athenaeum on June 26 at 7:00 p.m. Janina Majeran, Reference and Young Adult Librarian at the Swampscott Public Library will present.