New Orleans North Mardi Gras Party
Saturday Night, February 21st
8:00 PM
at The Salem Athenaeum
Snow date is Sunday, February 22
The NONO Party is  now sold out

Tickets include one drink of your choice, then cash bar.

Le bon temps roule!
Join us for a spectacular evening of Mardi Gras splendor, featuring:
Music by blues virtuoso
Mark T. Small
A wide array of sumptuous, New
Orleans-style hors d'oeuvres
Three Signature Mardi Gras
cocktails, wine, beer, etc
A special arts and events auction
Election of the costumed
King and Queen!
A special photo booth to
capture memories
And much, much more!
Mardi Gras finery welcomed but not required.
Our Signature Cocktails!
The Sazerac
Sugar cube, water, rye whiskey, Peychaud's Bitters, angostura bitters, ice, Anise, lemon peel
The Hurricane
Light rum, dark rum, grenadine, passion fruit juice, lime juice, orange juice, orange slice
The Abby Burns
Touch of Bourbon, lemon juice, simple syrup, Prosecco, twist of lemon
Mark T. Small
Mark's show includes many great traditional Delta Blues numbers with a Chicago Blues slant, blazing flat-picking techniques, and the hot slide guitar. Mark has played on the bill with Johnny Winter, Albert Lee, Coco Montoya, James Cotton, John Mayall, Jimmy Thackary, Elmore James JR, Savoy Brown, Charlie Musselwhite, Jonathan Edwards, Shor'ty Billups, James Montgomery and more.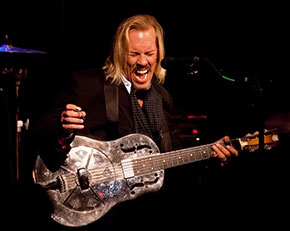 On October 23, 2014, Mark won Best Acoustic Blues Album of the Year at The Blues Blast Music Awards.
Listen to Mark playing "Railroad Blues".
The Krewe
Bru Barry
Stephanie Buck
Abby Burns
John Casey
Naomi Cottrell
Caroline Cox
Sarah Harrington
Ken Harris
Sandy Heaphy
Judy Kearney
Francie King
Stacia Kraft
Betsy Lahikainen
Carolyn McGuire
Paul Pinto
Jean Marie Procious
Betsy Ricciarelli
Julie Rose
Barb Taylor
Chris Thompson
Meg Twohey