Fall 2017-Winter 2018

Quinton Oliver Jones (1903-1999)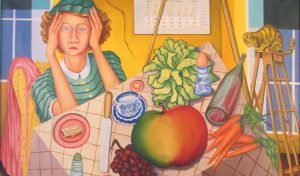 Quinton Oliver Jones and his two siblings grew up in their family's ancestral home in Salem, MA. He was great-grandson of a sea captain who sailed during Salem's golden age of navigation. A close-knit family, the Joneses were nurturing, church-attending, and somewhat protective. However modest their circumstances, education was the greatest valued priority and all the children graduated from college. Quinton attended Salem public schools and entered Harvard in the class of 1926. Initially declaring English as his major, he was quickly drawn into the art department from which he graduated cum laude.
The year 1926 was pivotal in his life—his father died two months before his graduation, and his uncle died several months after. With siblings now pursuing their academic careers away from Salem, he was left to take care of his ailing mother and the family home. Quinton chose to make the most of his proximity to Boston and augmented his art studies over the next three years by enrolling in the Museum of Fine Arts, Boston, where he studied sculpture and he learned the techniques of stone carving and modeling in clay.
His family home shaped many of his interests and art work—the house was full of books, magazines, and newspapers that had been saved from previous generations. He read voraciously, and took many themes from this source material, as well as current events. Quinton led a quiet, dedicated, frugal and independent life, focused on his art—his creativity sustained him.
Throughout his long life within the 20th century, Quinton left us 360 canvases, with themes from mythology, Shakespeare or fantasies of imagination. Not being especially interested in rendering realistic landscapes, still life or portraiture, his work may be described as "mindscapes." As he once said, "I paint what I think."
He also modeled numerous sculptures, including portrait busts of children from the Salem orphanage. Also a poet, he often incorporated verse into his paintings. Later, as deafness overcame him, he withdrew into his more private and visionary world.
This Fall the Salem Athenaeum presents an exhibition drawn from Quinton's body of work, most of which has never been seen by the public before. Discover his colorful, fantastical mindscapes, which will be displayed throughout the first floor of the library.