Spring-Summer 2018
Food for Thought: A Literary Feast
Help yourself to a smorgasbord of food as portrayed in literature. Sample new dishes and savor old favorites.
The authors rant and rave, philosophize and poke fun at what we eat and how we eat it. Some selections are poetic, some are horrific, some are nutritious, and many are just plain delicious!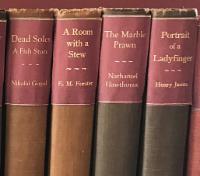 The Foodie Classics Library
Visitors to the exhibit have suggested new titles for the Foodie Classics Library, an imaginative re-naming of classic titles within the food theme. Below is a just a sampling. Come see the rest and share your own!
A Selection of the New Titles
The Old Man and the Pea by Ernest Hemingway
Buns and Lovers by D. H. Lawrence
Griddlemarch by George Eliot
Lord of the Pies by William Golding
Feast of Eden by John Steinbeck
The House of the Seven Bagels
by Nathaniel Hawthorne
Winnie the Pho by A. A. Milne
The Taming of the Stew by William Shakespeare
Moby Duck by Herman Melville
On the Origin of Spices by Charles Darwin
The Wizard of Orzo by L. Frank Baum
Ethan Fromage by Edith Wharton
The Catsup on the Fry by J. D. Salinger
Harry Potter and the Sorcerer's Scone
by J. K. Rowling
Titles Suggested by the Dickens Fellowship:
Grape Expectations
Little Dorito
Barnaby Fudge
A Christmas Caramel
Olive with Twist
Martin Cheezewiz
Nicholas Pickleby