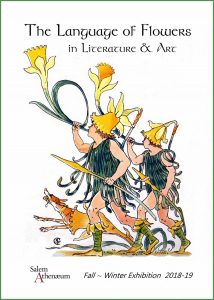 Fall 2018 Exhibition
The Language of Flowers
The Language of Flowers began in the East, where people exchanged gifts of flowers and objects, each with a symbolic meaning. In the 18th century, Europeans discovered this pastime in Turkey, brought it home and adapted it to their own culture.
By the 19th century, the Language of Flowers was spoken fluently in Europe and America. People consulted
 Language of Flower dictionaries and exchanged floral gift books, calendars and cards. They sent messages by way of bouquets which allowed them to express their affection privately and silently.
This exhibit of rare and beautiful books features flowers as envoys.
"Then, gather a wreath from the garden bowers, And tell the wish of thy heart in flowers."
James Gates Percival